Clear Skin Kit Clear's Your Skin in 5 Steps
Our products feature our powerful trademarked formulas with key ingredients that are scientifically proven to nourish and clear your skin.
We spent months working alongside a fully qualified, independent team of Chartered Chemists, Toxicologists, Microbiologists, and Regulatory experts who specialize in the formulation and testing services within the cosmetic and household goods Industry.
With their exceptional expertise and complementary skills in manufacturing, process controls, industry regulation, health, and safety, we managed to source the most effective and natural ingredients in the whole of skincare. 
Hydrates & Clears Your Skin
Vegan & Gluten Friendly
Suitable For All Skin Types
Our Products Are Cruelty-Free
FREE

 Delivery Worldwide

30 Day Money Back Guarantee
Cruelty-Free & Natural Ingredients
 SKINKISSED is a formulation. Completely natural, crafted, and scientifically proven to improve and clear your skin.
The ingredients used in our Vitamin C Serum have been used for centuries to achieve natural and healthy skin, but it is only now that we have finally brought these two unique ingredients and combined them into one small bottle of joy.

Our serum's formula is based on ancient beauty ingredients that will nourish, enhance, and leave your skin glowing. The key ingredients of our Vitamin C Serum are: 
 Vitamin C + Hyaluronic Acid 
 SKINKISSED has helped many customers with the following skin problems: 
☑️  Hormonal Spots & Inflamed Skin
☑️  Dry Skin, Breakouts & Blackheads 
☑️  Reduces Wrinkles & Fine Lines
☑️  Redness, Uneven Skin Tone & Enlarged Pores
☑️  Acne Scarring, Pigmentation, Eczema & Blisters
☑️ Stretch Marks, Scald, Surgical & Hyperplasia scars
SKINKISSED Will Strengthen & Repair Sensitive & Mature Skin, Leaving Your Skin Feeling & Looking Flawless Again. Suitable For All Skin Types. The Serum penetrates the skin cortex easily and softens the scar tissue. Promotes natural healing and renewal of your skin, rich in natural antioxidants, Oil-free, and non-comedogenic.
INGREDIENTS 
Aqua (Water), Rosa Damascena Flower water, Sodium Ascorbyl Phosphate (Vitamin C), Glycerin, Phenoxyethanol, Sodium Hyaluronate, Phytic Acid, Sodium Metabisulfite
Hydrating

Aloe Vera Face Cleanser:
The SKINKISSED Cleanser effectively cleanses and repairs dry damaged skin, leaving it clean and smooth. The main active ingredient of Aloe Vera extract gives your skin the hydration it needs for brighter a refreshed skin.
☑️ Gives the skin Elasticity
☑️ Retain natural moisture 
☑️ Soothes skin with Aloe Vera Fragrance
☑️ Removes & Extracts pollutants and impurities from the skin
 Ingredients:
Water, Sodium Lauroyl Glutamate, Cocamidopropyl Betaine, Hamamelis Virginiana (Witch Hazel) Extract, Caprylic/Capric Triglyceride, Aloe Barbadensis Leaf Juice, Polyquaternium-30

Betaine, Peg-150 Distearate, Panthenol, Allantoin, Sodium Chloride, Phenoxyethanol, Citric Acid, Disodium Edta
 Face Moisturizer & Nourishing Cream
This SKINKISSED moisturizer naturally moisturizes your skin for a healthy-looking natural beauty. The pure plant ingredients from aloe vera extract and nutrients from the uncontaminated deep sea can rebuild the natural tissue of your skin. It contains natural plant essence and rich elements to replenish moisture and nourish the skin.
Ingredients:

Water, Isopropyl Palmitate, Caprylic/Capric Triglyceride, Glycerin, Cetearyl Alcohol, Cycloddimethylsiloxane, Polydimethylsiloxane, Cetearyl Glucoside, Arbutin, Glyceryl Stearate, PEG-100 Stearate, Lauryl Ketone, Bis(Hydroxymethyl)Imidazolidinyl Urea, Bisabolol, Hydroxybenzidine, Triethanolamine, Carbomer, Hydroxy Phenylpropyl Ester, Rhodiola ROSEA Root Extract, Butanediol, Parfume.
Vitamin Gummies

SKINKISSED Vitamin Gummies are tasty and chewable skin vitamins. We have sourced the highest quality ingredients for the gummies allowing them to give you the best results possible. These gummies are suitable for both vegans and vegetarians. We designed our multivitamins for those who were looking for an easier way to intake their daily vitamins without the struggle of swallowing pills. The Vitamins contain ingredients that will improve overall health & achieve clearer and flawless skin. This vegan formula is based on clinical trials that have shown these ingredients to help improve skin & general health They're flavored with natural strawberries for a sweet taste you can enjoy!
☑️ Helps Strengthen and Soften Skin

☑️ Helps Rebuild Skin Tissue
☑️ Helps Increases Collagen Production

☑️ Heps Tightens your skin's pores
Ingredients:

Vitamin A, Vitamin C, Vitamin E, Biotin, Zinc, Omega 3, Omega 6, Omega 9
Charcoal 
Eye Patches

The skin around your eye area is very thin and delicate. It is daily exposed to the outside environment, computer technology, and mobile phones, causing this particular part of the skin to usually look tired and dry. The extra work hours and late-night sleep can also cause eyes to feel tired with dark circles and eye bags. But.. this is something you don't need to worry about anymore, with SKINKISSED Patches your eyes will look brighter than ever before!


SKINKISSED Eye Patches are formulated with natural ingredients containing bamboo charcoal extracts and active elements that hydrate, regenerate, and energize your under-eye area. This innovative eye care sensation ensures that your eyes will look youthful, radiant, and sparkling beautiful.
☑️ Helps Eliminate Dark Circles
☑️ Helps Remove Eyes Bags
☑️ Helps Repair & Hydrate Under Eye Skin Area
Ingredients:
Water, Glycerin, Betaine, Xanthan Gum, Phenoxyethanol, Iodopropynyl Butylcarbamate, Dextran, Chondrus Crispus Powder, Charcoal Powder, Algin, Citric Acid, Diazolidinyl Urea, Potassium Chloride, Panthenol, Parfum.
Customer Reviews
100
reviewers would recommend this product
Write a Review
Ask a Question
07/15/2022
Anonymous

United Kingdom
04/13/2022
Elizabeth

United Kingdom
I recommend this product
When I say miracle…
Suffered from cystic painful hormonal acne flare ups for the last year or so. Lost all my confidence and didn't want to leave the house due to being so embarrassed and suffering from huge flare ups at age 26. Been on the waiting list for a dermatologist for god knows how long and give up. Finally came across skin kissed and all I can say is thank you!!! Really has worked wonders and I'm so grateful to this company. If you're thinking of buying then go for it!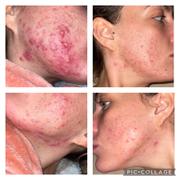 04/12/2022
Amron

United States
I recommend this product
Highly recommend!
Before buying this product my acne was the worst it's ever been. I'm 39 and my face started developing cystic acne along my jaw line and neck. Normally, my skin is oily, I have large pores and had minimal acne. I started feeling depressed as I never seen my skin so bad. I tried name brand products but they were too harsh for my skin leaving it red, dry, and definitely not treating my acne. Some would work for awhile but then stop and my acne was back. I purchased the whole package and after two weeks, my cystic acne was gone. My skin was soooo soft. No more bumps or pain. My makeup glided on so smoothly. My skin looked amazing. The only thing i have left is as all the scarring I had caused on my neck from picking. So the pictures may not seem like an improvement but I'm telling you it's all scarring. The first week I saw little progress, but at the end of the second week, I was so happy and just wanted to cry. I really can't explain what this product did for my skin. Just that I'm ordering again. If I could make a recommendation it would be nice to include something in the products or a product to help with scarring. LOVE THIS PRODUCT. Dont hesitate, get this product. If you use it as recommended, you will see progress. THANK YOU SKINKISSED.
Hi Amron, Thank you for sharing such wonderful feedback. We are so happy about this, you have put a smile on my face. We strive so hard as a brand to help women achieve better and healthier skin. It makes us so happy to hear that we have helped another person. You should know that 20% of each sale is donated to charities that help women who are a lot less fortunate. I want to take this opportunity to wish you and your dear family only happiness and health. If you have any questions or concerns, remember we are always here for you. Consider us family. The SKINKISSED team. xx
11/10/2021
Holly B.

United Kingdom
I recommend this product
So impressed!!!
I LOVE how much better the skinkissed serum makes my skin. It keeps blemishes away and also shrinks my pores, keeps my skin hydrated. I had really dry and dull skin before so it really has helped improve it. The customer service for this company is also really really good. I had a problem with my delivery and Daisy from customer service came across extremely helpful, polite and genuinely passionate about her job. Lovely friendly caring company :)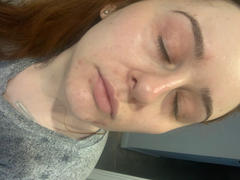 08/07/2021
LORNA L.

United Kingdom
I recommend this product
Wonder products!
So glad I came across these products. They are amazing and have cleared up my skin so much! I use the combination of cleanser, serum & moisturiser. After using my skin feels so hydrated and soft and has really cleared up my problematic areas. 10/10!