Hydrates & Moisturizes Your Skin
 Feel and Look Young with SKINKISSED!
☑️ Vegan & Gluten Friendly
☑️ Suitable For All Skin Types
☑️ Our Products Are Cruelty-Free
☑️ FREE Express Shipping Worldwide
 What's included in The Hydrating Bundle?
 The UK's #1 Best Selling Flawless Facial Serum
SKINKISSED™ is a formulation. Completely natural, designed to improve your skin.

We spent 14 months in a laboratory working alongside dermatologists and pharmacists to develop a skincare formulation that will help you achieve flawless skin and clear skin.
We managed to source the most effective and natural ingredients in the whole of skincare. After much effort, we managed to combine the two most active ingredients to work in harmony with one another and help anyone get clearer and brighter skin.
The ingredients used in our Vitamin C Serum have been used for centuries to achieve natural and healthy skin, but it is only now that we have finally brought these two unique ingredients and combined them into one small bottle of joy.
Our serum's formula is based on ancient beauty ingredients that will nourish, enhance, and leave your skin glowing. We managed to source the highest quality of Vitamin C also known as 'Sodium Ascorbyl Phosphate'. 
This type and source of Vitamin C ingredient are rarely used in skincare due to the high costs for the raw ingredients. 
The Serum penetrates the skin cortex easily and softens the scar tissue. Promotes natural healing and renewal of your skin, rich in natural antioxidants, Oil-free, and non-comedogenic.
 SKINKISSED™ has helped many customers with the following skin problems: 
☑️ Wrinkles & Fine Lines
☑️ Hormonal Spots & Inflamed Skin 
☑️ Dry Skin, Breakouts & Blackheads 
☑️ Acne Scarring, Pigmentation, Eczema & Blisters
☑️ Stretch Marks, Scald, Surgical & Hyperplasia scars
  Ingredients 
Aqua (Water), Rosa Damascene (Rose Water) Vitamin C (Sodium Ascorbyl Phosphate), Glycerine, Hyaluronic Acid, Phenoxyethanol.
 Face Moisturizer & Nourishing Cream
This SKINKISSED moisturizer naturally moisturizes your skin for a healthy-looking natural beauty. The pure plant ingredients from aloe vera extract and nutrients from the uncontaminated deep sea can rebuild the natural tissue of your skin. It contains natural plant essence and rich elements to replenish moisture and nourish the skin.
Ingredients:

Water, Isopropyl Palmitate, Caprylic/Capric Triglyceride, Glycerin, Cetearyl Alcohol, Cycloddimethylsiloxane, Polydimethylsiloxane, Cetearyl Glucoside, Arbutin, Glyceryl Stearate, PEG-100 Stearate, Lauryl Ketone, Bis(Hydroxymethyl)Imidazolidinyl Urea, Bisabolol, Hydroxybenzidine, Triethanolamine, Carbomer, Hydroxy Phenylpropyl Ester, Rhodiola ROSEA Root Extract, Butanediol, Parfume.
Customer Reviews
Write a Review
Ask a Question
07/28/2020
Lauren K.
United Kingdom
I recommend this product
TRUST THE REVIEWS!!!
I was so skeptical about using a new skincare brand on my super sensitive skin as I didn't want it to flare up! I had seen the reviews on Snapchat and Amazon and just decided to take the plunge!! BEST DECISION EVER!! I have never had such smooth flawless skin. It's amazing all round, this has been a god send for me and have recommended to many friends and family. Trust these reviews honestly never had such flawless skin! Xo
06/30/2020
Anonymous
United Kingdom
I recommend this product
Flawless serum
I bought this product 3 months ago and still continuing to buy it because it is amazing. My skin glows like a barbie doll! I get flare ups once a month around my chin and cheeks normally it would take a week to clear and still would see redness. With the serum it take the redness out of my skin and heals them up so quickly! This is my first review ever on anything and that's because I was so amazed at this product.
06/16/2020
Grace S.
United Kingdom
I recommend this product
This is the best my skin has EVER looked
I've always struggled with my skin, I never had serious acne but I got really bad hormonal acne everytime I came on my period which would be so sore and I'd end up with really bad scaring on my chin. I was sooo self conscious of my skin and would never go anywhere without wearing makeup! I've used so many cleansers, masks and exfoliators, I even started going for facials and got tablets from the doctors to try and help my skin as it was effecting my everyday life and was becoming so painful and uncomfortable to live with. The only thing that would ever help my skin would be sitting in the sun on holiday to fade some of the marks on my face, then as soon as I came back home it would get bad again! during lockdown I saw all the raving reviews online about this product and even though I was sceptical I wanted to try it out for myself. I can honestly say this has CHANGED MY SKIN, it took about 2/4 weeks to notice a proper difference but even after a few days I noticed a lot of my redness from my spots going down! I've been using it since March and for the last 2 months I have not broken out once from my period which I don't think has ever happened. It's calmed my skin down, all of my scarring has gone which I've had for YEARS which constantly made me look like I had broken out. My skin now looks like I've been on holiday all the time as the product makes my skin so glowey. I now finally look like I have healthy skin and I can't believe the amount of confidence it's given me. The product takes 2 seconds to apply which makes it so easy as I always used to give up on a lot of products as they were too much effort to use. My skin has genuinely never looked like this before, my pores are reduced, my skin is glowey, I have no breakouts, no dark marks, no redness! Honestly I recommend this to everyone if you're suffering with your skin and I don't think I will ever stop purchasing this product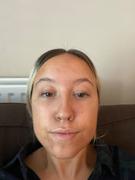 06/16/2020
Mrs J.
United Kingdom
I recommend this product
LOVE IT!
I bought this serum for my teenaged daughter who has acne now for the past three/four years. She has tried lots of products and treatments over the years but nothing has really helped until she tried Skinkissed. Not only has she seen a reduction in the outbreak of spots but the skin that has been very badly scarred from the spots has improved too, would definitely recommend!
05/30/2020
may f.
United Kingdom
I recommend this product
Amazing product & great customer service
I ordered 2 bottles of the serum, as there was a 2 for 1 offer on, which was great to start off with. When the products arrived, one of the bottles had smashed - it obviously hadn't been packed this way so it was something I assumed had happened during the delivery process. I emailed skin kissed customer service and got a reply within the day, saying they would send me out a replacement free of charge and this arrived literally 3 days later - I've never used this company before and I know sometimes bigger companies can make returns/replacements a long or difficult process, but I was so so pleasantly surprised with how they responded!!! In terms of the serum, I love it. Doesn't feel harsh or too heavy, and it doesn't sit on the skin. I've been using it for about a month now, in conjunction with my normal cleanser, toner and moisturizer (I mix it in with my moisturizer) and my skin looks the best its looked in a LONG time - really clear and glowy! Would definitely recommend using. Only thing I would say is if you have dry skin, like me, I would mix it with a moisturizer just for a tad more hydration. Other than that, it's perfect!