RESULTS GUARANTEED OR YOUR MONEY BACK
 Why try SKINKISSED™ Flawless Serum?
SKINKISSED™ is a formulation. Completely natural, designed to improve your skin.
We spent months working alongside a fully qualified, independent team of Chartered Chemists, Toxicologists, Microbiologists, and Regulatory experts who specialize in the formulation and testing services within the cosmetic and household goods Industry.
With their exceptional expertise and complementary skills in manufacturing, process controls, industry regulation, health, and safety, we managed to source the most effective and natural ingredients in the whole of skincare. After much effort, we managed to combine the two most active ingredients to work in harmony with one another and help anyone get clearer and brighter skin.

The ingredients used in our Vitamin C Serum have been used for centuries to achieve natural and healthy skin, but it is only now that we have finally brought these two unique ingredients and combined them into one small bottle of joy.

Our serum's formula is based on ancient beauty ingredients that will nourish, enhance and leave your skin glowing. The key ingredients of our Vitamin C Serum are: 
 Vitamin C + Hyaluronic Acid 
 SKINKISSED™ has helped many customers with the following skin problems: 
☑️ Hormonal Spots & Inflamed Skin
☑️  Dry Skin, Breakouts & Blackheads 
☑️  Reduces Wrinkles & Fine Lines
☑️  Acne Scarring, Pigmentation, Eczema & Blisters.
☑️ Stretch Marks, Scald, Surgical Scars & Hyperplasia scars
SKINKISSED™ Will Strengthen & Repair Sensitive & Mature Skin, Leaving Your Skin Feeling & Looking Flawless Again. Suitable For All Skin Types. The Serum penetrates the skin cortex easily and softens the scar tissue. Promotes natural healing and renewal of your skin, rich in natural antioxidants, Oil-free and non-comedogenic.
HOW TO 

USE

Simply apply and smooth 1-3 drops to a cleansed and toned face, ensuring full coverage all over. Allow the serum to fully absorb into the skin before applying any creams or moisturizers.

A soft tingling sensation is to be expected to maintain long-lasting hydration. Add a few drops before starting your base to achieve a fresh, dewy finish.

To experience maximum results, customers have informed us that the serum is much more effective when used in conjunction with our Aloe Vera Face Cleanser & Hydrating Moisturiser 

 We are proud to inform you that our unique formula & ingredients have been manufactured in the United Kingdom under strict GMP standards. 

Feel and Look Young with SKINKISSED!

Our products are 100% cruelty-free
Ingredients 
 Aqua, Rosa Damascena Flower water, Sodium Ascorbyl Phosphate, Glycerin, Phenoxyethanol, Sodium Hyaluronate, Phytic Acid, Sodium Metabisulfite

 DELIVERY
We offer worldwide shipping. Delivery within the UK is £6.95 and the rest of the world is £9.95
All orders above £50, qualify for FREE shipping.
Customer Reviews
Write a Review
Ask a Question
03/19/2020
Jazz B.
United Kingdom
2 week result
I bought this product regardless of being sceptical, but after giving birth mid december my skin had never been so bad and spotty, would never normally pay this price for a product so small... but I'm so glad I did! Doesnt smell of much but a slight tinge of rose I think, at first it feels slightly sticky but in a minute it starts to make your skin feel quite smooth to touch. Serum is virtually clear and you dont need much of it, however I think you do need more than 2-3 drops as recommended or it becomes hard to massage in otherwise. I'm basing my 5 stars purely on my results after 2 weeks, it has got rid of so many spots and dried the remaining ones out, however the very dry skin around my mouth and nose is now soft and smooth! Have already bort 2 more aswell as the eye masks and cleanser
10/17/2018
raque W.
United Kingdom
10/07/2018
Natalie T.
United Kingdom
09/08/2018
Jessica M.
United Kingdom
It helped a little
I have moderate-severe acne and redness. I have been using it 2-3 weeks. after about a week I could see quite a difference. I felt so happy my acne has finally cleared up Also found it a little sticky when using before bed I would have to put it on 1-1 1/2 hours before otherwise I'd stick to the pillow.
09/06/2018
Anonymous
United States
Nice serum
In view of the comments and the state of my skin, I decided to buy the serum. It's now 3 weeks ago that I use it every day even as a makeup base and oh my god the result is just magic. My pimples are gone and my skin is smoother. The only negative is the size of the serum but in view of the results it is well worth it, I will also buy it. I recommend it 100%.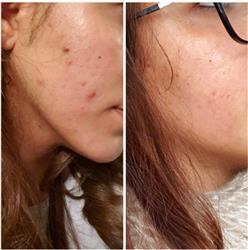 09/02/2018
Kara O.
United Kingdom
08/28/2018
Anonymous
United Kingdom
Lovely product
The oil and my skin feels lovely when applied but the smell I'm left with is not very desirable. I could live with it and would probably get used to it over time but it certainly doesn't carry a pleasant scent. I am not currently using the product as I am trying to rebalance my skin after a breakout. I bought the product due to the positive reviews.I am waiting until I feel confident with my skin to start using the oil again and maybe just at night to begin with.
08/16/2018
Ayesha B.
United Kingdom
only a small difference made
Purchased this after seeing so many celebrities and beauty bloggers raving about this brand. So many of my friends are using it and experiencing such amazing results. However, I've been using this twice a day after my facial routine for 2 days now but seriously I see only a small difference. It has not changed my skin much. My acne is slowly disappearing and working well with my redness. Looks like from the reviews that most people had much better results:( I wanted quicker and better results :(
07/27/2018
Kara P.
United States
THIS STUFF WORKS
So it's been about two weeks since I started using Vitamin C serum and my results are breathtaking. The first few days my skin was a little irritated especially on my cheeks where I had most of my problem spots like discoloration, scarring etc. but after that my scars and discoloration disappeared. My skin feels/looks plump, hydrated and BRIGHT. This also is great to use under your makeup as a primer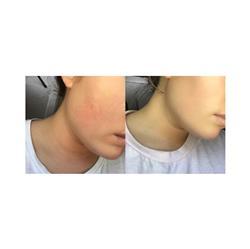 07/26/2018
Marley
United Kingdom