Detoxifies & Brightens Your Skin!
☑️ Vegan & Gluten Friendly
☑️ Suitable For All Skin Types
☑️ Our Products Are Cruelty-Free
☑️ FREE Express Shipping Worldwide
What's included in this complete skincare bundle? 
The UK's #1 Best Selling Flawless Facial Serum
We spent months working alongside a fully qualified, independent team of Chartered Chemists, Toxicologists, Microbiologists, and Regulatory experts who specialize in the formulation and testing services within the cosmetic and household goods Industry.
With their exceptional expertise and complementary skills in manufacturing, process controls, industry regulation, health, and safety, we managed to source the most effective and natural ingredients in the whole of skincare. After much effort, we managed to combine the two most active ingredients to work in harmony with one another and help anyone get clearer and brighter skin.
The ingredients used in our Vitamin C Serum have been used for centuries to achieve natural and healthy skin, but it is only now that we have finally brought these two unique ingredients and combined them into one small bottle of joy.

Our serum's formula is based on ancient beauty ingredients that will nourish, enhance, and leave your skin glowing. The key ingredients of our Vitamin C Serum are: 
 Vitamin C + Hyaluronic Acid 
SKINKISSED™ has helped many customers with the following skin problems: 

☑️ Wrinkles & Fine Lines
☑️ Hormonal Spots & Inflamed Skin 
☑️ Dry Skin, Breakouts & Blackheads 
☑️ Acne Scarring, Pigmentation, Eczema & Blisters
☑️ Stretch Marks, Scald, Surgical & Hyperplasia scars
  Ingredients 
Aqua (Water), Rosa Damascene (Rose Water) Vitamin C (Sodium Ascorbyl Phosphate), Glycerine, Hyaluronic Acid, Phenoxyethanol.
Hydrating Aloe Vera Face Cleanser:
The SKINKISSED Cleanser effectively cleanses and repairs dry damaged skin, leaving it clean and smooth. The main active ingredient of Aloe Vera extract gives your skin the hydration it needs for a brighter a refreshed skin.
☑️ Gives the skin Elasticity
☑️ Retain natural moisture 
☑️ Soothes skin with Aloe Vera Fragrance
☑️ Removes & Extracts pollutants and impurities from the skin
 Ingredients:
Water, Sodium Lauroyl Glutamate, Cocamidopropyl Betaine, Hamamelis Virginiana (Witch Hazel) Extract, Caprylic/Capric Triglyceride, Aloe Barbadensis Leaf Juice, Polyquaternium-30

Betaine, Peg-150 Distearate, Panthenol, Allantoin, Sodium Chloride, Phenoxyethanol, Citric Acid, Disodium Edta
 Face Moisturizer & Nourishing Cream
This SKINKISSED moisturizer naturally moisturizes your skin for a healthy-looking natural beauty. The pure plant ingredients from aloe vera extract and nutrients from the uncontaminated deep sea can rebuild the natural tissue of your skin. It contains natural plant essence and rich elements to replenish moisture and nourish the skin.
Ingredients:

Water, Isopropyl Palmitate, Caprylic/Capric Triglyceride, Glycerin, Cetearyl Alcohol, Cycloddimethylsiloxane, Polydimethylsiloxane, Cetearyl Glucoside, Arbutin, Glyceryl Stearate, PEG-100 Stearate, Lauryl Ketone, Bis(Hydroxymethyl)Imidazolidinyl Urea, Bisabolol, Hydroxybenzidine, Triethanolamine, Carbomer, Hydroxy Phenylpropyl Ester, Rhodiola ROSEA Root Extract, Butanediol, Parfume.
Customer Reviews
Write a Review
Ask a Question
11/10/2021
Holly B.

United Kingdom
I recommend this product
So impressed!!!
I LOVE how much better the skinkissed serum makes my skin. It keeps blemishes away and also shrinks my pores, keeps my skin hydrated. I had really dry and dull skin before so it really has helped improve it. The customer service for this company is also really really good. I had a problem with my delivery and Daisy from customer service came across extremely helpful, polite and genuinely passionate about her job. Lovely friendly caring company :)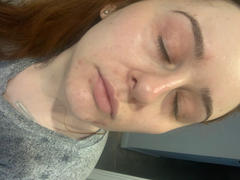 08/07/2021
LORNA L.

United Kingdom
I recommend this product
Wonder products!
So glad I came across these products. They are amazing and have cleared up my skin so much! I use the combination of cleanser, serum & moisturiser. After using my skin feels so hydrated and soft and has really cleared up my problematic areas. 10/10!
04/19/2021
Anonymous

United Kingdom
I recommend this product
Must have!
I purchased this in January on the off chance that it would work, as nothing else does! Honestly I can swear by this product. If you stick to your skincare routine you will see the results within 2 weeks. I use the eye patches, face cream and serum. Every night after a shower which opens my pores. I wish I could attach a photo of my before and after. I wouldn't be without these products now & I am buying in bulks to avoid ever having to go without. 100% worth the hype!
03/16/2021
Maude B.

Canada
02/05/2021
Pearl C.

United States
I recommend this product
real results
This is my favorite product with actually results. I have tried everything, nothing worked like skinkissed has worked for me. the other cleansers take time to show lasting results, I used the cleanser and serum and moisturizer and within a week I had a noticeable fresher looking face. I've always had trouble with acne, skinkissed calms my skin down, leaving my skin looking fresh and clean.. the first three photos are before skinkissed changed my life & the last two photos are my results after a month of using skinkissed.